Then.....and now
Richard is currently living in the San Francisco Bay area, riding a
bicycle on Sundays, listening to traditional Irish music and developing
a global warming board game. Got a Ph.D. in Forest Resources in 1972
from the University of Georgia. Two children, Katherine and Carl, ages
22 and 20. Still working as director of a small non-profit. Best
thing done recently: Bought a Prius. Best recent book: Earth Under
Fire (global warming) by Gary Braasch. Favorite vacations; fishing for
northern pike in Canada. Best memories of Jahn: Playing one caught -
all caught on the playground; Ms. Loose drinking behind the piano;
Sneaking into the girls bathroom on a bathroom pass.
JANUARY 2014-SEE THE BULLETIN BOARD PAGE-RICH HAS JUST AUTHORED A BOOK


Rich and Susan Bailey, 2012
Carol and Ken have been married for 43 years. They have two children – son 31 (just got married in the Dominican Republic), daughter 27 (still living at home). " I know I am getting old, because until about a year ago I was really happy to have all of the activity around the house. Now I am doing my best to help my daughter find her own place".
Carol worked for 12 years in downtown Chicago for Canteen Corporation and then a not-for-profit organization working with community groups in Chicago. Then spent 17 years as a stay at home mom, active in children's schools, PTA and School District. Have been working since approximately 1993 in municipal government She is currently the Deputy Village Clerk for a Chicago Suburb.
"I am still a frustrated actress and enjoy the theatre as much as I can. Our summer activities revolve around our sailboat that we use as a weekend retreat. This is also an area where I am beginning to feel my age. After a weekend of climbing around the boat and in the sun and weather I go back to work to rest, at least physically."
"It has been very nostalgic time for me, either because I am getting older or the kids are moving on, but I have thought of people I have lost touch with over the years. I know with everyone living such hectic lives it is difficult to maintain (or reconnect) relationships. It has been great hearing about all of the Jahnites".
I am saddened to report that Ken passed away on June 30, 2011. Our condolences go to Carol and her family. Signed: Harry Blesy and all the classmates.
2008
Harry and Margaret Blesy 2012
Son Ed (veterinarian, MI-two boys); daughter Anjeanette (teacher, SC-one boy); Worked at Riverview; Dog sledded in Alaska, crossed Arctic Circle; Auctioneer Grad. 1988; Worked on Amish farm; Collect and enjoy vintage radios, Past Prez, Antique Radio Club of Illinois; Ret. PD LT in 1994; Motorcycled around lake Michigan last year.Currently Admin Tech Assistant at Chicago-Suburban library; Organic gardener.

**
Pearl became a hairdresser. She married her high school sweetheart,Larry Witt, in1964. Larry was in the printing business. She was a stay-at-home mom and also made floral arrangements for a number of years. In 1990 the Witts moved to a home on a private lake in Indiana. During thattime, Pearl managed a beauty salon at J.C. Penny. In 2005, after 41 years of marriage, Larry suddenly passed away. Pearl moved back to the Chicago area

where she enjoys golfing, traveling and spending time with her four grand- children. Pearl says that she has very fond memories of her years at Jahn.
Dennis on a recent cruise to Alaska
Both my wife Lori and I retired this past January and reside in the Chicago area. I have 5 kids although our second oldest son passed away back in 1992. We currently have 6 grand kids. I was a (FAA Air-traffic) controller at Chicago Center for 30 years and a first line supervisor for an additional 7 years. Since retirement we have spent most of our time getting caught up with household chores. We also stay quite involved with our grandchildren. We hope to begin traveling.
There are many parts of this country I would love to see. I do really enjoy reading your updates and messages from our other classmates.
*
Glen is a barber and who is semi-retired.
He has had many famous individuals
as customers, especially when he was
barbering in the Merchandise Mart.
a recent photo of Rich Matzick
BS Engineering (IIT 67), Married Cyndi 1970. Moved to Orlando 1984. Held a few different positions in facilities field in Chicago and Orlando. Retired Spring 07 from First Baptist Church Orlando (Facilities Director). No kids. 4 cats. Rick enjoys church activities, hobbies (such as ham radio), and working on Cyndi's honey-do list. GO CUBS!!
.
Recent photo of Barry with his son and daughter-in-law
Retired from the Accounting profession in April 2009. Had been taking life easy ever since then with my garden and ham radio. My son graduated U of I with his PhD in Material Science and Engineering and is now a Research Fellow doing his Post Doctoral work at Harvard University in Boston/Cambridge. His wife passed the New York Bar first try and is employed by a very old and prestigious law firm in New York City. They have a weekend marriage for the next three years. (12/2010)

.

.

.

.

.
Dennis and Mary (Fillipiak) Caldwell 2008
Living in the Chicago area and married to Dennis for 45 years in June. We have2 Children, Candace lives Iowa and Brian lives in Il.

We have 5 grandchildren. Dennis and I owned our printing company for 26 years; I now manage our client base as an independent. Hobbies - Gourmet Dinner Group, Entertaining,Cooking,Gardening, WineTasting ,

Having coffee with friends. I volunteer at our local food pantry, mentor for women at WINGS (Women In Need Growing Stronger) Active in my church as Call Committee Chairman, Small Group Leader,Caring Partner Coach, Prayer Partner. I'm also active in ExecuNet of Chicago a Networking group and when I have time I like to veg out and watch TV. As you can tell I really enjoy people. Enjoying our mini-reunions.

.
Lynn with Harry and Barry 2009
Lynn passed away in March 2013
.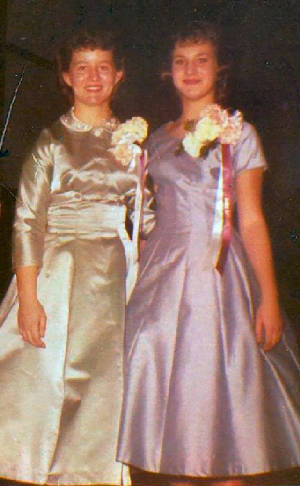 Fran and Pearl
Bob Webb is a retired
police officer from a
great midwest city.
He recently had a
bad spill on his
bicycle and broke
numerous bones.
Although still
recuperating he
surprised us by
appearing at a
recent mini reunion.
(see reunion page)