Born in a raging snowstorm, Stormy grows up in a world of deniers, but comes to view climate change as her life's work as she becomes a global news reporter. During her career she become trapped in a flooded New York subway, kidnapped by terrorists in Africa and pummeled by a hurricane in Florida. Stormy finds solace in an Irish Pub and confides to her editor that she secretly recorded a conversation at the office of oil giant, Exego. Years later an Exego oil platform in the arctic is destroyed by a Russian missile.
Along the way she quotes Goethe, re-writes "The Night Before Christmas" (because by 2040, the North Pole is gone) and modifies the Gettysburg address. Despite suffering the loss of family members, she perseveres, creates a new political party in the year 2068 and campaigns to become the president of the United States.
In 2072, new NASA satellite technology recognizes distinct signs of civilization on Venus, raising fears that the Venus syndrome will repeat itself on Earth.
Uncle Pierre joins the Climate Posse, Las Vegas is abandoned and her congressman / husband George is held hostage by Washington politicians.
For ordering information or to place an order, click here.
Dick Bailey grew up in Chicago, where he attended Jahn and Lane Tech. He traveled extensively while studying ecology and natural history, and received a Doctorate of Forest Resources from the University of Georgia. He has worked in the state and federal government sectors, for consulting firms and in private industry. He currently resides in the San Francisco Bay Area where he directs The Lake Merritt Institute, a small non-profit, community organization, and writes about climate change.
Contact Richard L. Bailey at: rbaileyporter@gmail.com
******************************************************************************
On Sept 8, 2013 we had a party to say good-bye to Barry who moved to Tennessee. In the group were some grammar school classmates who gathered for a group picture.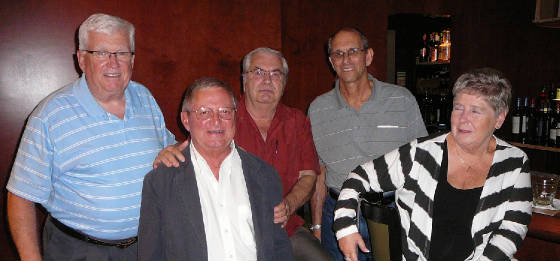 Reading from left to right:
Harry, Barry, Dennis, Rich (snuck in from Schneider School) and Carol.