1946*1949*1951*1952*1953*1954*1956*1957*1958*1962
These are the classes featured
REMEMBER HALLOWEEN AT JAHN? CLICK HERE FOR A PHOTO OF 1940'S JAHN AT HALLOWEEN
***********************1939**********************
Click here to see a request from the Young Family for a photo of the 1939 Jahn Class
************************1946************************
courtesy of Jim McKenzie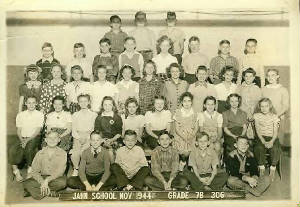 Nov 1944, 7B class picture taken in school basement
Courtesy of Jim McKenzie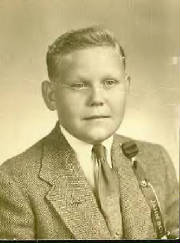 Graduation Photo of Joe McKenzie June 1946
Joe McKenzie graduated in June of 1946. He passed away and his brother Jim has provided us with a 7th grade class picture. Joe is in the first row all the way to the left. Jim has no information on the identities of the other students or a graduation picture for this class.
Is there anyone who might be able to provide one?
***************************************
JAHN PATROL BOYS JUNE 1948 ***CLICK HERE FOR PHOTO***
photo courtesy of Gene Allgower, class of 1949
*************************1949*************************
Gene Allgower provided his graduation photo of the June class of 1949. Gene is a retired math professor living most of the year in Colorado. He spent his Jahn years in the 1900 block of Fletcher. After Jahn he attended Lake View before going on to college at I.I.T.. He and his wife were married in Galilee Baptist Church on Damen, across from Hamlin Park. His best friend at Jahn was a classmate, Jim Luisi, a retired electrical engineer with whom he still has contact.
recent photo of Gene and his honey in Hawaii
TO SEE GENE'S CLASS PHOTO JUNE 1949 CLICK HERE
*******************1951*******************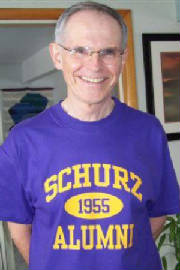 -a note from Claude Barutzke who graduated in June 1951-
Hi Everyone. Thought I'd wear my Schurz t-shirt to add a little class to a group that's dominated by so many Lane and Lake View people (Only kidding…only kidding). I attended Jahn for my entire elementary school days, from 1943 to 1951. I was Claude Barutzke then, and had the nick-name "Butch". I'm so grateful that I stumbled onto Harry's website and had the opportunity to get to know him and acquaint myself with some other Jahn grads and to revisit some of the people and places that made those years memorable.
I am a retired teacher. Early in my career I taught high school biology in Africa, and finished my teaching career as a junior high general science teacher in Naples, New York, in the heart of the Finger Lakes. I now live in Canandaigua, New York with my wife, Carol. We have two sons. One lives nearby in Rochester, and the other lives in Chicago with his wife and our only grandchild. We visit as much as we can.
photo courtesy of Claude (Butch) Barutzke-Peters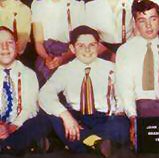 Claude Barutzke, down front and center
click here to see the entire June 1951 Class photo
If you want to read some of my memories of growing up in that neighborhood, playing at Hamlin Park, and attending Jahn, click on the link below to my memoir, "Growing Up in Lake View, 1941-1951". I'd like to hear from you and also get your memories from a time that was so important to us. You can reach me by email at: Butchie@rochester.rr.com
to see Claude's Memoirs about growing up in Lakeview in 1941 to 1951, click here
******************JANUARY 1952******************
Jim Innis also grew up on the 2100 Block of Fletcher.
Along with his brother Ed, they reunited with Claude Barutzke
a few years ago and have
toured the old neighborhood sharing memories.
Jim has provided us with this photo.
photo courtesy of Jim Innis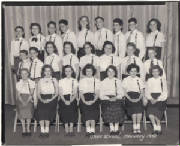 January 1952
To see a full sized, Class of January 1952 photo...click here
***********************1952***********************
HH Blesy photo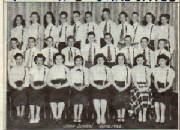 Class of June 1952
for a full sized photo of the June 1952 class, click here
*******************1953*********************
July 2009- Mike Briggs sent us his graduation photo. We need help in identifying many his classmates. Mike moved from the neighborhood and didn't get to know everyone well enough to remember their names.
from Mike Briggs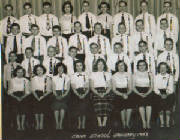 Class of January 1953
for a full sized photo of the graduating class of January 1953 click here
**********************1954*******************
From Carole (Kulzer) Brennan:
It is with great pleasure that I include the Jahn School Class of June 1954 photo. I have searched my memory for two names – but they continue to allude me. I also take full responsibility for any misspelled names. I am saddened to add that William Phillips passed away in March 2000. Donna Vollmer and I had the pleasure of attending the 50th class reunion for Lake View High School 1958 graduates in September 2008 and I am in regular contact with several former classmates.
Much information about Phillips Bakery is located within this website. Willie Phillips and I were best friends throughout our 8 years at Jahn. My mother worked there and I had the pleasure of selling my classmates tarts, nut slices and other treats from 1953 to 1958. In 1962 I married a Burley School class of 1953/Lane Tech class of 1957 fellow, Dennis Brennan. Shortly after our marriage, we moved to California, went to college, worked at our careers and had a 36 year marriage before his death in March 2000. My own career in advertising and marketing ended in 2002 and retirement has offered me an opportunity to become a very active volunteer (Musical Theatre West, Friends of Long Beach Animals, Non-Profit Volunteer Coordinators of Long Beach (California), The Zachery Foundation, Los Angeles Turners, American Turners, German-American League of Southern California). I've also started a small second career writing a monthly column for Long Beach Magazine. Somehow, there is also time for travel and I've cruised the old neighborhood several times during the past few years and through its many different incarnations.
One memory that stays strong in my mind is visiting the shoe repair shop in the middle of the block, Belmont between Damen and Hoyne. Large leather belts ran the various machines, and the smell of leather polish and glue were wonderful. Joe the Shoemaker was ahead of his time, being the king of recycling. Not only did he make shoes last for years, but the paper tickets he used to identify the shoes with their owners were used over and over again until they were soft and almost illegible.
I can be reached at cbrennan@laturners.org and it would be fun to hear from fellow graduates.
courtesy of Carole Brennan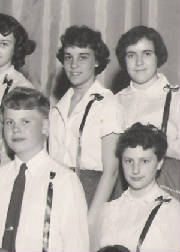 June 1954
to see the full sized picture of the class of 1954 and more about Carole, Jahn and the Turners- click here
****************************1956****************************
I am Ed Innis and I graduated from Jahn in June 1956. After graduating Lakeview, I entered the US Air Force in Feb of 1961 and was stationed at Little Rock Air Force Base, Jacksonville, Arkansas, it was a SAC base (Strategic Air Command Base), which deployed Boeing B-47 nuclear bombers, and KC-97 Refueling tankers. When the USAF phased out the B-47's I was assigned to Kadena Air Base in Okinawa and Bob Luker, who I was best buddy with since Jahn, was stationed at Camp Schwab on the north end of the island. We would visit each other on the weekends.
I was best friends with Bob Luker until he sadly passed away in 1998.
In loving memory of Bob Luker
April 2, 1943 - November 1, 1998
I was also good friends with Pete Byer, Tom Boesch, John Lang, Don Webber, Jim Schaugnessy, Gary Barutski, Bernie Fox, Sharon Abuja, Brenda Gill, Annette Hoffman, Joanne Klopp, and many others whose names have escaped me for now.
I joined the Itasca Police Department and served there from May of 65 to Sep of 92 at which time I retired as Deputy Chief........and have been retired and enjoying every day of it since.
In June of 1966 I married Harriet Jane Katz, a Chicago elementary school teacher, she was teaching at Marconi School. Bob Luker's wife was also a teacher at the same school, they fixed my wife and I up and a blind date..... and the rest is history. We have two daughters, Caroline and Michele. Caroline has 2 boys, now ages 14 and 12. Michele, our youngest, is an Elgin, IL firefighter. All in all, my life has been full of joy and happiness. I have a wonderful family and good health.
Ed has this 6th grade photo that we are featuring until we hopefully will find his graduation class photo.
photo Courtesy of Ed Innis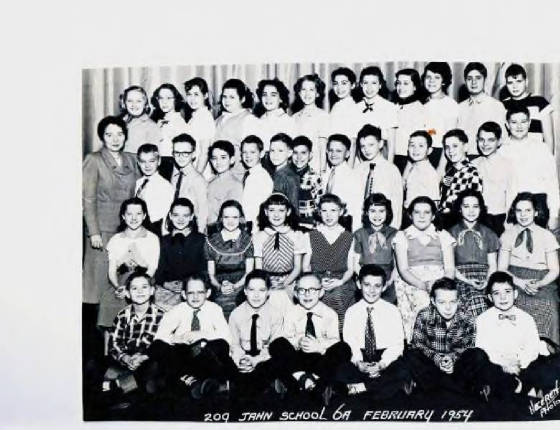 Top Row: Janice Groth; Joan Trier; Nancy Freer; Kathleen Poglitsch; Shirley Bocian; Renee Franz; Rose Parisi; Arlene Witt (her Mom owned the corner store at Melrose & Wolcott(S/E corner); Louise DeGracia; Bonnie Freeman; Fred (last name Unk); Arnold Hermann ?.
3rd Row: Teacher: Edith P. Smolak; Owen Klug (his Mom was the crossing guard at Wolcott and Belmont); Joe Frey; Joseph Russo; unk; unk; Dennis Hansen; Billy Jo McWherter; Howard Kneifel; Michael Cantlon; Ray Zimmerman; John Gurtin; James Sarver
2nd row: Unk; Roberta Amore; Unk; Unk; Shirley Schalk; Sandra Lawler; Peggy Craven; Barbara Lawlor; Corinne Hansen
Bottom Row L to R: Merrill Poynter; Unk; Ed Innis; Mervyn Olson; Lester Hansen; Walter Haller; Pete Byer
*******************************************************************
Feb 2009, a copy of Ed's graduation class photo has been submitted by classmate Shirley Bocian CLICK HERE TO SEE THE JUNE 1956 CLASS PHOTO
Ed's mother graduated from Schneider School in 1932. Ed has provided us with her graduation class photo. See that photo on the Lakeview page.
******************************1957*********************************
From Ray Zobott (class of June 1957)
After being in Naples, Florida for seven years and married to my wife Joan, for twenty-two years, 40 degree temperature seems really cold. I sympathize with all of you. Blesy and I have been friends for over 50 years so it was with some irony that he recently had a heart attack and lived to tell about it. I had my heart attack five months ago on my 66th birthday and am still vigorously working today as a property manager. Harry has done a great job with the Jahn web site and the Lane Tech updates. I see faces and names of friends and classmates from grade school and high school, and the old neighborhood. I remember Eddie Innis; and, I bet his brother Jim knows my brother or sister from Jahn, Harvey and Joan.
Courtesy Ray Zobott Dec 2008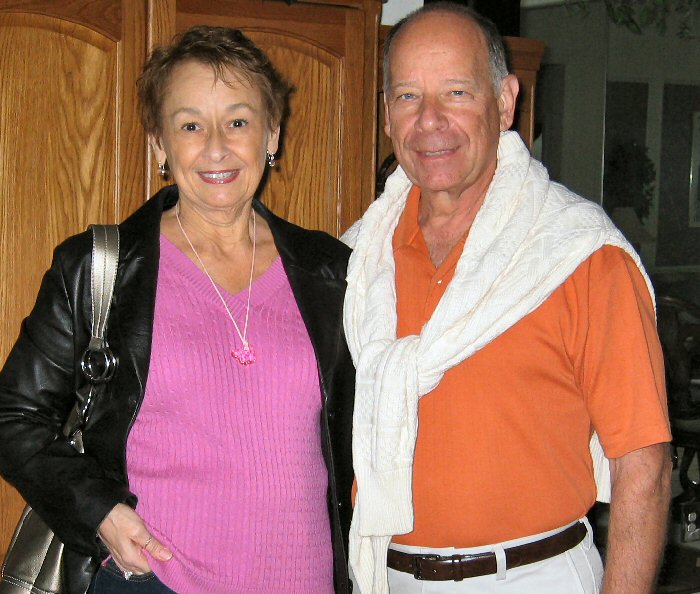 Joan and Ray Zobott
It is nice to hear from some of our old friends and classmates and it is a little sad when we hear about the ones we lost. I, like Harry, look forward to hearing from that old gang of ours. Wherever you live now stay warm and be happy; and, enjoy your life to the fullest just as Harry and I do. Contact me at
ray@zobott.com
courtesy Ray Zobott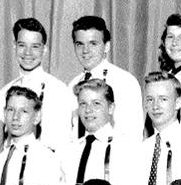 June 1957
to see the full sized class photo submitted by Ray Zobott, click here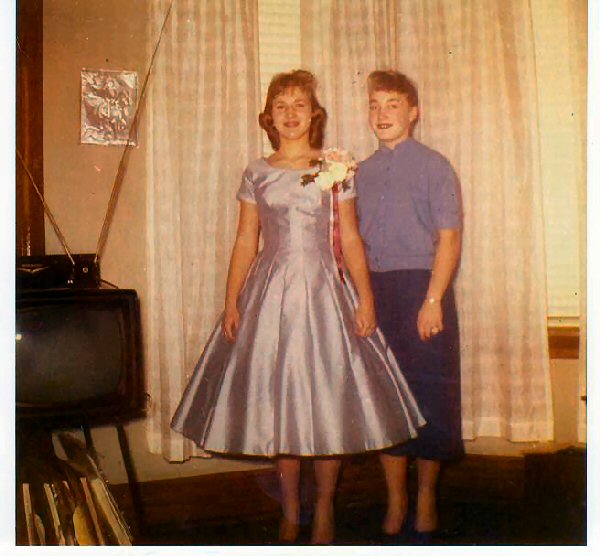 Pearl (58) and Diane Bocian (57)
*********************1962*******************
My name is Jim McKenzie. I attended and graduated from Jahn School in 1962. My two sisters and brother also graduated but many years before me. My oldest sister Lois is in her early 80s.
I was thrilled to find a web-site for Jahn. I was a patrol boy at the corner of Oakley and Belmont. My dad owned a hamburger grill on Belmont called Shorty's Grill. I remember eating mashed potatoes and gravy on white bread at Ma's Restaurant and going to Riverview Park and I lived at the roller rink.
I am married living in Bloomington, Illinois and working for Hickory Point bank & Trust in Decatur. I have been in the banking industry since college this will be my 36th year. Where have the years gone?
courtesyJim McKenzie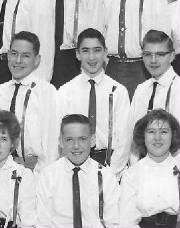 January 1962
click here to see the full sized 1962 class photo submitted by Jim McKenzie
DO YOU HAVE A JAHN GRADUATION PHOTO TO SHARE?
Dennis Wisek (graduated June 1962)
has lost his class photo and
would like to hear from other classmates.
PLEASE CONTACT ME IF YOU HAVE A
PHOTO FROM JAHN
OR THE NEIGHBORHOOD:
Harry